Environmental Responsibility
L. J. Gonzer Associates is committed to a policy of Environmental Responsibility. Though we do not produce a product or make anything that cause us to create waste products or emissions in our business activities. We strive to find and implement new ways to minimize our impact on the environment and to create a better environment for ourselves and our community.

Our overall objective is to consume less and recycle more in our general business activities. By using less we reduce our overall materials and resource consumption. By recycling more, we give back as much in the way of resources as possible.

Though all of our facilities are lease/rentals we are working with our building management to implement and maximize our goals with them. The building management company has been on-board with such initiatives and is working to implement new and improved 'smart building energy systems'. Currently they have implemented HVAC systems that monitor areas within the building and changes in weather and sunlight to minimize services as needed. Additional they have installed lighting systems that shut down lighting when the system does not detect people in an area.

For our part we have or are implementing a wide variety of measures to increase our responsiveness to these initiatives. These include:
Recycling Paper, Cardboard, Plastic Containers, Aluminum Cans, Batteries etc…. This includes utilizing recycled products such as paper whenever possible to minimize new resource waste.
Recycling and Proper Disposal of Computer Equipment and Electronics in qualified disposal facilities.
Recycling and Proper disposal of ink/toner cartridges.

We are also working with Printer Vendors who offer recycling services to properly handle.
Selection of Energy Star Rated Electronic components to minimize energy use.
Smart use of electricity in office areas.

We have our offices wired so we can individually shut of lights when not in use. We have implemented policies to shutdown monitors when not being used, in particular at night and to shutdown all unnecessary computer workstations on weekends or extended periods of non-use.
We are taking steps to educate our staff on these policies and their positive impact. And to show how what they learn through our efforts can help them in their home life. We are all part of the solution.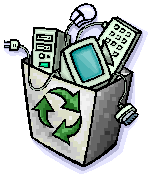 Computer Equipment must be disposed of properly. Most computer components contain a large number of dangerous chemicals and metals. The most obvious is lead from the circuit boards. They must be brought to a Hazardous Waste Facility that specializes in electronic equipment disposal.
Environmental Goals
Learn about our initiatives for expanding our environmental aims on our
Disclosures page
.